Karl Lueger monument / Vienna
Manfred Grübl, Anna Jermolaewa, Scott Evans
The Karl Lueger Monument has been the subject of intense discussion and controversy for years. Built in 1926, the monument—a stone podest topped by a bronze statue of Dr. Karl Lueger, the podest containing statues of workers and reliefs representing the former Viennese mayor's modernizing achievements while in office—is problematic due to the fact that Lueger espoused and encouraged a populist antisemitism, one that created an environment in which a young Adolph Hitler would further develop his racist and antisemitic views. So not only does the Lueger Monument celebrate "Der Schöne Karl's" accomplishments—building up the city's public transport system, expanding and improving public utilities, building parks and hospitals, and so on—it also appears to present Lueger's antisemitic views in high regard, as his statue stands erect and proud, elevated high above the square for passersby to "look up to." Furthermore, if one looks at the reliefs on the podest, one does not see a depiction of the Jews fleeing Russian pogroms who were not allowed to enter the city because of a ban that Lueger supported in 1887. In essence, the Karl Lueger Monument is a monument to Viennese antisemitism, a Mahnmal.   So, what to do with this problematic and controversial monument? To remove or topple the Lueger statue is to hide Lueger, to hide the fact that an antisemite had such an important role in both shaping a modern Vienna and creating an environment where antisemitism could openly thrive. Vienna has a long history of antisemitism practiced by its populace, one that periodically comes to the surface with tragic consequences. To remove the Lueger statue is to ignore this history and pretend that this element no longer exists, to say that Vienna is beyond antisemitism, "it has been dealt with, time to move on, etc." And to change the monument, to modify it physically, would change this Mahnmal into a positive monument that covers up the antisemitism of the past and the memory of what, and who, stoked its flames that eventually inspired the Viennese to be such willing participants in the actions of the Third Reich.    We propose that the best way to approach this problematic monument is to use it to further a discourse that continues the process of Viennese society coming to terms with its past. A discourse, or dialogue, requires at least two people, or in this case, two monuments. We propose to build a Monument Against Antisemitism in Dr. Karl Lueger Platz.   The Monument Against Antisemitism will be a podest that is modeled after the Karl Lueger Monument's, most notably it will be the same basic shape, and the exact height and width. This is to attribute no lesser importance to this monument than the one facing it. It also obviously marks the podest as such, as there will be no bronze statue atop it, no reliefs, no figures carved into its stone. The absence of these figures represents the void left in Vienna by the emigration, deportation, and murder of Viennese Jews during the Holocaust—the numerous victims who could have been on this monument, but either perished or never got the chance to exist. One of this multitude could have stood atop this podest and defiantly looked Karl Lueger in the face. This counter-monument will use this absence to answering Lueger's populist antisemitic rhetoric with a silence that speaks volumes. The monument will contain lights, sunker in and circling the stone at each of its levels, that will glow at night, a subtle reminder that this void remains, antisemitism's tragic consequences to be always considered, not just during the light of day. We would propose that, in addition, the lights that are installed and highlight the Karl Lueger Monument be removed. Though we feel it is important that the Lueger Monument stands in the square as a source for a continuing dialogue, we do not feel it should be offered the "respect" of lighting at night, the respect of "illumination."   Around the base of the monument, in a circle, will be the words:  FROM 1938-45, THE JEWS OF VIENNA WERE FORCED TO FLEE OR DEPORTED AND MURDERED IN CONCENTRATION CAMPS. AROUND THE TURN OF THE CENTURY, KARL LUEGER FANNED THE FLAMES OF THIS VIOLENT ANTI-SEMITISM. WHAT REMAINS IS A VOID. To create a space conducive to this contemplation, white birch trees will be planted behind the Monument Against Antisemitism. The white birch is chosen for this project as a symbol of the Russian Jews that Lueger helped ban from residing in Vienna. The trees will help lower the traffic noise from the Ring, and provide shelter and shade for the monument and its visitors. This will also emulate the trees that stand behind the Karl Lueger Monument.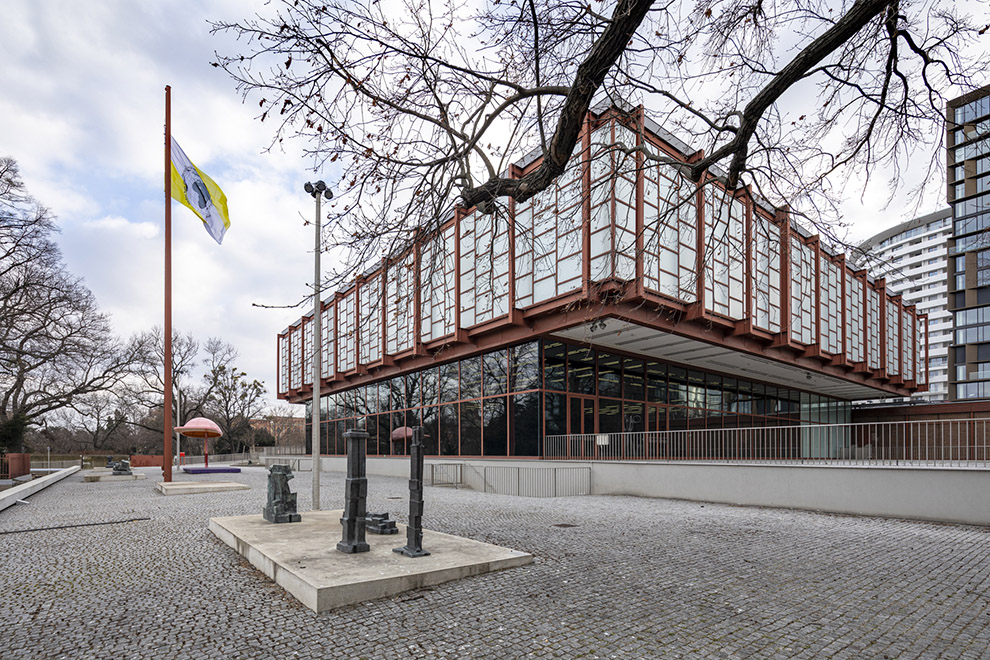 Public Matters / Contemporary Art in the Belvedere Garden / 13 May 2023 - 1 October 2023 / Manfred Grübl, Anna Jermolaewa
"HALBMAST" / "Jede*r hat das Recht auf Leben, Freiheit und Sicherheit der Person" ist der Allgemeinen Erklärung der Menschenrechte von 1948 entnommen und dieser Satz umfaßt die Weltkugel auf der Flagge. Grundrechte sind ein verfassungsgesetzlich gewährleistetes Recht. Die Menschenrechtskonvention ist in der Regel auch in die Verfassung mit eingeschrieben. Für die Fahne und unser Projekt haben wir bewusst dieses fundamentale Grundrecht gewählt, weil es jedem Menschen zusteht. Das Recht auf Leben ist die Vorbedingung für die Ausübung aller anderen Menschenrechte und daher eine zentrale Garantie, unabhängig von der Herkunft. Die Flagge im Belvedere 21 ist ein weitreichendes Signal und fordert die Wahrung der Grundrechte, ohne die unsere demokratischen Werte ohne Fundament sind.
Art – a public matter? Ever since their opening to the general public in the 1780s, the Belvedere Gardens have been used extensively as places for recreation and communality. The occasion of the 300th anniversary of the completion of the Upper Belvedere is a good opportunity to emphasize that they are clearly also places of art. From May through September, an extensive contemporary sculpture project complements the Baroque sculpture program at the Belvedere's three locations. Site-specific as well as existing works by international and local artists will connect all of the museum's gardens along a path – from the main courtyard of the Lower Belvedere and its Privy Garden to the grand Baroque gardens of the Upper Belvedere and the modernist sculpture garden of the Belvedere 21 – highlighting how the gardens organically grew into an ensemble. Public Matters follows an expanded concept of sculpture that includes time- and process-oriented approaches. As a critical homage, the show addresses the representation of power in the past and present as well as its transformation over time. In particular, the focus is on aspects of the public and the public sphere that emerge with and through art. The project is accompanied by a comprehensive publication featuring essays and texts on the works on display. With works by Thomas Baumann, Renate Bertlmann, Louise Bourgeois, Verena Dengler, Carola Dertnig, VALIE EXPORT, Wil Frenken und Fria Elfen, Thomas Geiger, Roland Goeschl, Dan Graham, Thomas Houseago, Alfred Hrdlicka, Iman Issa, Anna Jermolaewa und Manfred Grübl, Kapwani Kiwanga, Brigitte Kowanz, Hans Kupelwieser, Marko Lulić, Goshka Macuga, Hans Op de Beeck, Ingeborg G. Pluhar, Maruša Sagadin, Toni Schmale, Kateřina Šedá, Socratis Socratous, Kara Walker, Lawrence Weiner, Lois Weinberger, Franz West, Fritz Wotruba, Heimo Zobernig Curators: Christiane Erharter, Georg Lechner, Sergey Harutoonian, Axel Köhne, Claudia Slanar, Luisa Ziaja Assistant curators: Miroslav Halak, Andrea Kopranovic
"Work Money Nature"
Portrait Karl Polanyi, frame with glass
Karl Polanyi's thinking can best be categorised as critical economic theory. Polanyi's approach to economic theory is characterised by historical analysis - in comparison to conventional economists who rely on future forecasts of developments. Since the financial crisis of 2008, his critique of the system has been increasingly noticed. Karl Polanyi calls for the reintegration of the market into a free and self-determined society. For him, the idea of a self-regulating market is doomed to failure, as it only leads to the complete exploitation of people and nature as well as the destruction of democracy and freedom. What is striking about his attitude is that neither labour, i.e. human activity, nor land, i.e. nature, nor money, a conventional symbol of value, are commodities in the proper sense. None of the three elements is produced for sale. Thus labour, land and money are nothing but "fictitious" commodities. But this commodity fiction has a profound impact on society, because if labour becomes a commodity, then human beings and their everyday way of life have themselves become commodities. It is not the interests of the economy that should determine society, but people should use the economy to their ends and adapt the commodity fiction to the economy. With the quotation: "The end of the market economy could mean the beginning of an era of unprecedented freedom" he gives a direction for man and nature.(Excerpts from the book: The Great Transformation, Karl Polanyi 1944)
"Barrier 1"
A wall of compact stereos in Mexico City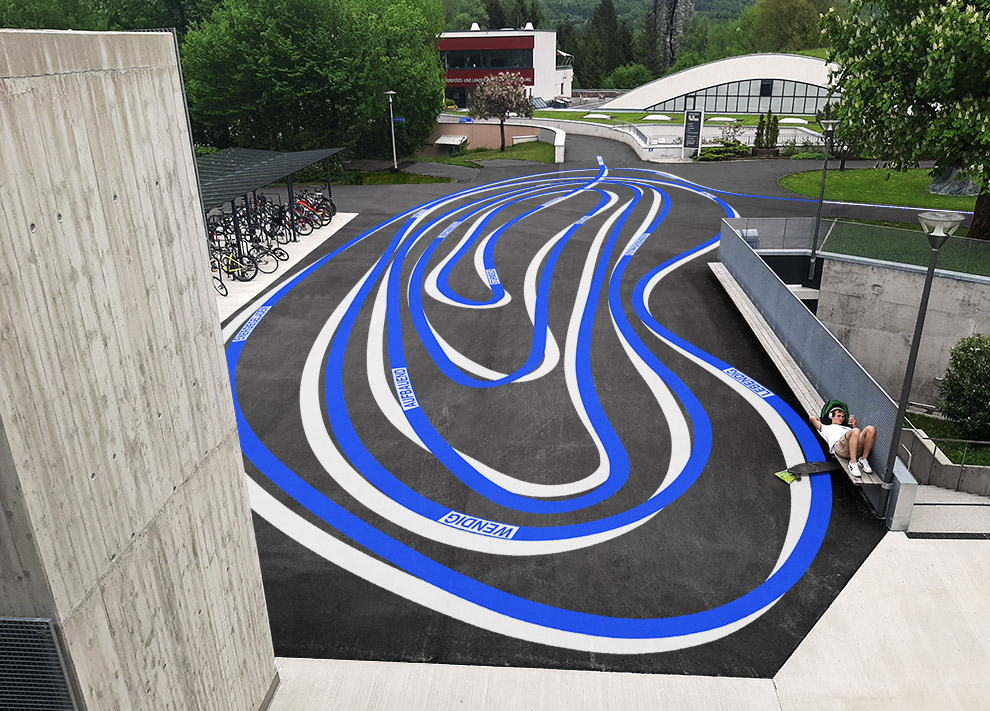 Artistic design Landessportzentrum Salzburg / Rif bei Hallein
Floor coating, artificial cloud - air conditioning in the outdoor space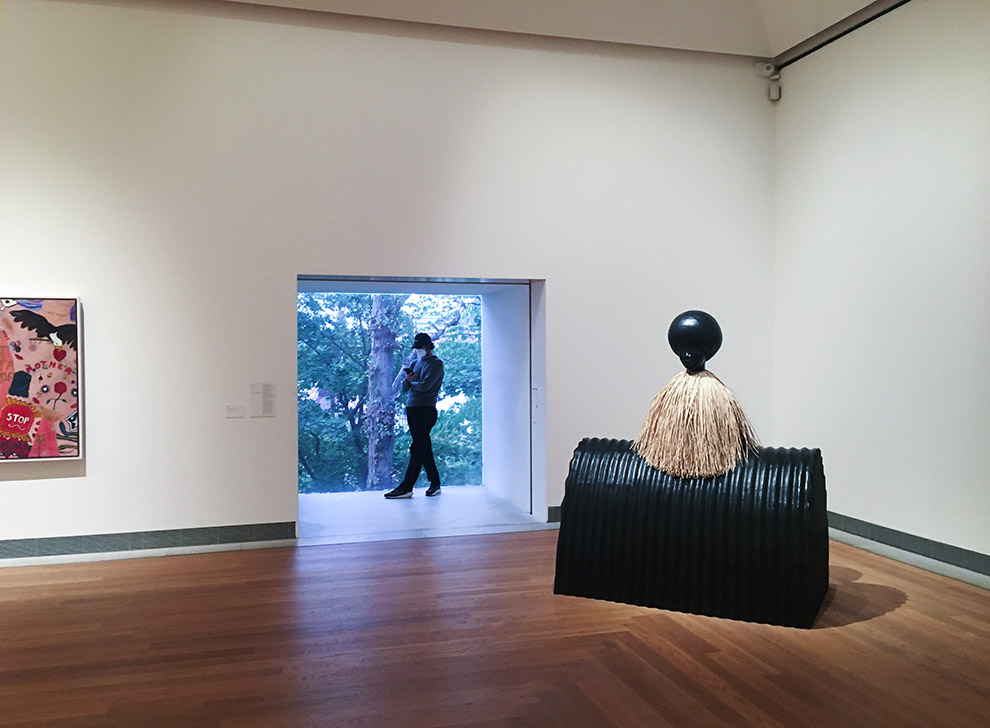 "human sculpture" 2022, Moderna Museet / Stockholm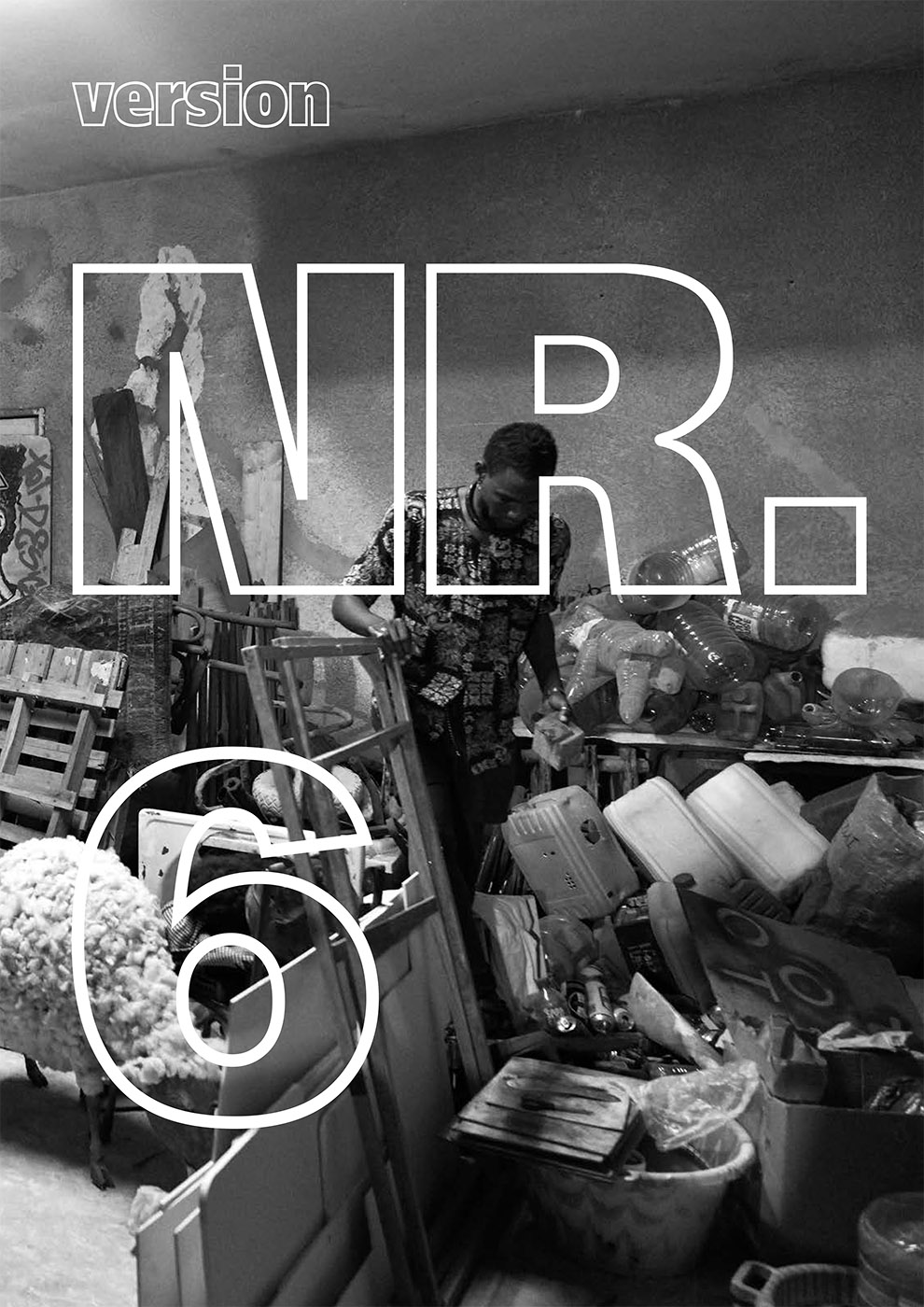 VERSION 6 (coming out in September)
Publisher Manfred Grübl, Linda Klösel
The association Kunst Wissen Intervention (Art Knowledge Intervention) concentrates on various issues surrounding approaches and conditions of artistic strategies. At the bounds and interfaces of diverse fields such as architecture, fine art, music, literature and performing arts, we are interested in the 'con-tensions', frictions and synergies that affect decision-making processes and developments in artistic practices as well as how they locate themselves in apparently established systems. Besides publishing VERSION, a magazine for contemporary art and cultural production, the association also regularly produces a CD/DVD edition with audio-visual works. Particular focus is laid here on works with conceptual sound structures, videos or text productions that experience marginal visibility under established market conditions. International networks and presence are demonstrated by the association with sound events such as those at the Foundry in London or exhibitions like the one at Hotelito San Rafael likewise in London.
In ihrer Rede The Danger of a Single Story beschreibt die nigerianische Schriftstellerin Chimamanda Ngozi Adichie, welche Auswirkungen stereotype Erzählungen darauf haben, wie wir über uns und andere denken. Wenn die immer gleiche Geschichte über eine Person, ein Land oder einen Kontinent erzählt wird, während tausende andere Geschichten verschwiegen werden, dann erzeugt das Scheinrealitäten und Überzeugungen, die sich nur schwer wieder aus unseren Köpfen entfernen lassen. Sie bekommen etwas Endgültiges, auch wenn diese Geschichten einen wahren As- pekt beschreiben: "Wenn ich nicht in Nigeria aufgewachsen wäre und alles, was ich über Afrika wüsste, aus populären Bildern bestünde, würde auch ich denken, dass Afrika ein Ort mit schönen Landschaften, schönen Tieren und unverständlichen Men- schen ist, die sinnlose Kriege führen, an Armut und AIDS sterben, unfähig sind, für sich selbst zu sprechen und darauf warten, von einem freundlichen, weißen Auslän- der gerettet zu werden." Wir Menschen sortieren die Welt und alles, was auf uns an Wahrnehmungen ein- wirkt, in Geschichten. Narrative haben die Macht unsere Gesellschaften zu formen, unsere Blickwinkel und Perspektiven zu beeinflussen. Neoliberale Erzählungen vom Streben nach Selbstverwirklichung, sich gegenseitig verteufelnde Kriegspropaganda, politisch motivierte manipulative Einflussnahmen, ausgrenzende und rassistische Ma- nifestationen ... diejenigen, die das Privileg haben, die immer gleichen Erzählungen massenhaft medial zu verbreiten, bestimmen, welches Machtgefälle sich durchsetzt. Es geht darum, Gegenperspektiven zu öffnen, Blickwinkel zu erweitern und schein- bar festgeschriebene Erzählungen durch weitere zu ergänzen, um eine differenzierte Formulierung und ein ausgewogenes Bild der Welt zu bekommen. Auf unserer Reise nach Dakar und in vielen Gesprächen mit dort wirkenden Künst- ler*innen und Kulturschaffenden haben wir immer wieder einen Appel gehört: Zu- hören! Denselben Appel, den auch ruangrupa das Kurator*innenteam der documenta 15 wiederholt aussprach. Für uns heißt das, den Erzählungen ein Stück Raum zu ge- ben, die bisher nicht genügend Gehör fanden, und einen Raum dafür zu öffnen, die eigenen manchmal auch wertenden Überzeugungen aufzuweichen. VERSION06 hat erstmals ein geographisches Schwerpunktthema und zeigt einen Ausschnitt der Kunstszene in Dakar. Yasmine Eid-Sabbagh spricht über ihre Erfahrung als Künstlerin auf der documenta 15 und ihre Praxis der Verbindung von Kunst und Alltag in Dakar. Alibeta Sarr und Ibaaku stellen ihren kollektiv organisierten Kunst- raum KENU vor. Mit Alesandra Seutin konnten wir über die Ècole des Sables, einem Zentrum für traditionellen und zeitgenössischen afrikanischen Tanz, sprechen. Raw Material Company, eine der wichtigsten zeitgenössischen Kulturinstitutionen, wird von Fatima Bintou Rassoul Sy, Delphine Buysse und Ibrahima Thiam vorgestellt. Dank AcTVism Munich konnten wir ein Interview von Zain Raza mit Noam Chomsky über den Ukrainekrieg abdrucken. Über die besonderen Eigenheiten und die Situation der Filmbranche in der Ukraine berichtet die Gruppe Kriegsbilder. Hans Schabus und Isa Rosenberger sprachen mit uns über ihre künstlerische Praxis. Die Inserts stammen diesmal vom ukrainischen Künstler Mark Chehodaiev, der chilenischen Künstlerin Patrizia Domínguez und dem Fachbereich Ortsbezogene Kunst an der Universität für angewandte Kunst in Wien.
_____________________________________________________________________________________________________________________________________________
Link Presse Information >